Jessica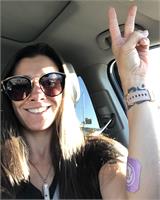 Jessica began practicing yoga in 2003, and firmly believes in the positive healing effects it has on the mind and body. In August of 2010, she gave birth to her son Connor, and was fortunate enough to put her IT career on hold to become a full-time stay at home mom. This also gave her an opportunity to follow her passions, and in the fall of 2010 she became certified to teach spin. She followed this by a 200 hour power vinyasa certification in the spring of 2011 at Qi Studios. Jessica thinks the combination of spin and yoga is the perfect way to achieve mental toughness through intense cardio, then allowing the body to stretch and relax, furthering the mind/body connection. In March of 2012 her second son Marcus was born, and though busy with 2 little ones, fitness became an even bigger part of her life. In the fall of 2012, she became certified through Burn At the Barre, followed by yoga sculpt training at Qi in the spring of 2013.
Jessica wants to share her passion for pushing the body past what one thinks is possible, becoming stronger physically and mentally during the process.
Jessica is currently not instructing any classes.