Amy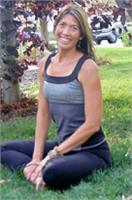 Hooked since the very first time she came to the mat, Amy can't imagine her life without yoga. Her practice has been a great complement to her active lifestyle, relieving aches and pains after a day of playing outdoors and has given her the physical and mental strength to progress further in all her endeavors. Most importantly, it has taught her to trust her intuition and live a life more true to her heart.
Amy teaches vinyasa and restorative yoga. In her vinyasa classes, she guides students through a challenging series of postures, connecting the breath with every movement, while encouraging self-acceptance, and providing students the opportunity to make new discoveries by stepping outside of their comfort zone. Her therapeutic restorative classes include passive, prop supported poses, meditation, relaxing music, and a bit of Thai yoga massage to gently open up the body and calm the mind, relieving both physical and emotional stress.
Amy graduated from George Mason with a BA in psychology, received her 200 hour teacher certification & restorative training through Qi Yoga, and kids yoga training through Yoga for Young Warriors. She is a Registered Yoga Teacher with Yoga Alliance and is currently pursuing her Thai Yoga Massage certification.
Amy seeks to carry the awareness and gratitude she's found through her yoga practice into all her experiences. She loves early morning sunrises, the mountains, and especially loves spending time with her wonderful family and friends. Her favorite activities include skiing, hiking, cycling, reading, listening to music, watching the faces of her kids light up on a ball field, and cuddling with her dog Daisy.
Amy instructs the following:
A 60 minute class; 30 minutes of Yoga-Infused Cycling followed by 30 minutes of Vinyasa Yoga. Indoor Cycling is a low impact, cardiovascular workout. Control your workout by adjusting the resistance and speed. Burn ~500 calories in 60 minutes! This is a great class for those new to Yoga or those looking to burn calories and gain strength and endurance.