Megan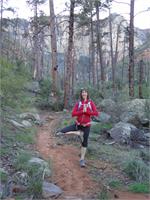 Megan has been practicing yoga since 2005. Originally she practiced hot yoga to build physical strength and stamina. A couple years later she discovered vinyasa and
fell in love. After having her first child, Megan found that yoga helped her become more centered and relieve anxiety related to being a first time mom. Her wish it to empower students to find their own limits and make safe breakthroughs, both physically and spiritually. She wants her students to feel
more centered and gain harmony within their bodies and minds through a strengthening, alignment based flow.
Megan tries to remain active as a mom with young children, making time for skiing, hiking, cycling with her husband and playing outside with her son and family dog.
Recently she completed Laura Wade Jaster's Spiral Mommas prenatal yoga training. She is now expecting her second child and enjoys sharing the benefits of yoga, breath
and movement with her students. Growing up with three older brothers, she finds prenatal yoga a welcome haven of sisterhood. Sharing the journey into motherhood with other expectant moms is a true honor. Her next training goals include cycle certification and restorative yoga.
Megan instructs the following:
A 60 minute class; 30 minutes of Yoga-Infused Cycling followed by 30 minutes of Vinyasa Yoga. Indoor Cycling is a low impact, cardiovascular workout. Control your workout by adjusting the resistance and speed. Burn ~500 calories in 60 minutes! This is a great class for those new to Yoga or those looking to burn calories and gain strength and endurance.