Dennis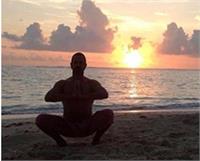 Dennis is a native of Colorado. He loves Colorado for the sports, the outdoors, the arts and restaurants. He found yoga after trying several different exercise classes. "After taking my first yoga class I felt a shift in my entire body. The strength, balance, flexibility and ability to focus all were a challenge and I felt this overwhelming calmness that was new to me."
Dennis teaches a Vinyasa flow and believes yoga is not just a physical practice but a lifestyle. His goal is to show you that any of life's challenges can be overcome through the practice of yoga. Come enjoy a life changing class with Dennis today!
Dennis instructs the following:
A series of flowing poses linked together with breath. This class is designed to open the body through movement while quieting the mind with breath. Working together, they create a meditation in motion.

Come and awaken the spirit!




Calling all road-warriors, trail-junkies and gym-rats...this is a yoga class designed to benefit the athlete (but you definitely don't need to be an athlete to attend).

Strengthening asanas (poses) will be combined with deep opening of those muscle areas that can become tense and tight in active people - hamstrings/quads, hips and shoulders, among others. Building strength in the core will protect and support the body in all endeavors.

Become more connected with your body and breath while improving flexibility/range of motion, balance and overall stability. Combined, these things can improve performance, reduce injuries and aid in faster recovery for athletes of all disciplines.

**All levels welcome**




A 60 minute class; 30 minutes of Yoga-Infused Cycling followed by 30 minutes of Vinyasa Yoga. Indoor Cycling is a low impact, cardiovascular workout. Control your workout by adjusting the resistance and speed. Burn ~500 calories in 60 minutes! This is a great class for those new to Yoga or those looking to burn calories and gain strength and endurance.