Dennis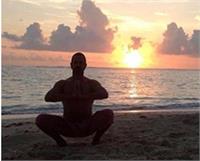 Dennis is a native of Colorado. He loves Colorado for the sports, the outdoors, the arts and restaurants. He found yoga after trying several different exercise classes. "After taking my first yoga class I felt a shift in my entire body. The strength, balance, flexibility and ability to focus all were a challenge and I felt this overwhelming calmness that was new to me."
Dennis teaches a Vinyasa flow and believes yoga is not just a physical practice but a lifestyle. His goal is to show you that any of life's challenges can be overcome through the practice of yoga. Come enjoy a life changing class with Dennis today!
Dennis instructs the following:
A series of flowing poses linked together with breath. This class is designed to open the body through movement while quieting the mind with breath. Working together, they create a meditation in motion.

Come and awaken the spirit!