Lori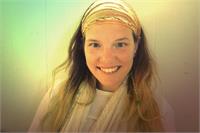 Lori joins the The Cycling Yogi after recently relocating from St. Andrews, Scotland. Although she is certified to teach the Ashtanga Primary Series, Pranayama (breath control), Meditation, and Sat-Kriyas (purification), Lori's class style blends the intense physical asanas of Ashtanga, with pranayama and the more esoteric aspects of yoga to create an "immoveable union" of mind, body, and spirit.
Her insatiable thirst for scientific and philosophical elements of yoga has led to multiple trips across India for yoga study. A yogini at heart, she is inspired by legendary yogis like Sri Sri Ravi Shankakar, T.K.V. Desikachar (son of T. Krishnamacharya), Sri Neem Karoli Baba Maharaj-ji, and Indra Devi (to name a few), and strives to live her life by Mahatma Gandhi's quote of 'being the change you wish to see in the world…'" She happily calls Golden, Colorado home and is excited to join The Cycling Yogi family.
Lori is currently not instructing any classes.