Allison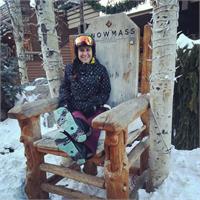 Allison was raised in southeastern Michigan, spending much of her time on the inland lakes and snowboarding. She then ventured to Columbus, Ohio to cheer on the buckeyes and pursue dual degrees from Ohio State: a Bachelors in Health Sciences and later a Masters in Occupational Therapy. She currently works in several settings in the Denver area as an Occupational Therapist helping those with disabilities or injury become independent.
Allison was quickly converted from a passive yoga class dropout to a dedicated student, and inspired teacher after discovering the mind, body, and community connection a deep practice brings. She completed her 100 hour teacher training in Columbus through Go Yoga (2014) and 200 hour certification in Sedona, also through Go Yoga (2015).
Allison enjoys teaching vinyasa classes based on the principles of breath, ease and flow of movement, empowerment, and balance with edge. She was further intrigued by cycling as a means of safe cardiovascular exercise and completed her cycle certification through The Cycling Yogi in 2016, now teaching and always striving to have a motivating playlist and energy.
When not teaching or working, Allison loves the art of Acro Yoga and can often be spotted flying or upside down on someone's feet.
Allison is currently not instructing any classes.