Erica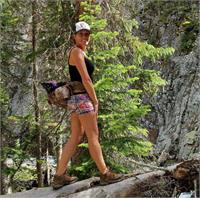 Growing up in Colorado, Erica has always loved getting out into the outdoors. In 2006 she started cycling after spending years playing team sports trying to find a new sport she would love. She started into yoga after finding that she was having back and shoulder problems from cycling. Learning that by combining a yoga practice with her cycling she was able to strengthen as well as improve her posture and balance on a bike. 6 years ago after a bad bike accident on her bike she decided to go beyond traditional physical therapy and immerse herself in yoga trainings in Costa Rica. Through her time there she was able to regain her strength and functionality.
Her journey through 4 yoga trainings (Interdisciplinary yoga, Children'y yoga, Restorative yoga and Innerquest) taught her the use of modifications and new postures to not only regain her functionality but also grow her practice and help others. She has enjoyed the challenge of working with people with injuries and disabilities as well as high school sports teams to help them minimize their risks of injury through improved strength and flexibility.
She loves biking, hiking and other adventures when she's not in the studio!
Erica instructs the following:
A series of flowing poses linked together with breath. This class is designed to open the body through movement while quieting the mind with breath. Working together, they create a meditation in motion.

Come and awaken the spirit!