Patsy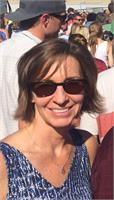 Patsy grew up in the mountains of Colorado leading an active lifestyle. She enjoyed lifting weights and Rollerblading almost daily. Working the evening shift at the hospital, her philosophy was to "play" at the beginning of her day when she was energized and to earn a paycheck while she "recovered". She moved to Denver in 1996 and earned her B.S. in Business Management from the University of Colorado. She is passionate about wellness and nutrition and enjoys studying these topics. Looking for a new workout, she discovered yoga. She attended classes for the exercise and found herself driving home afterward in a state of bliss. With regular practice she experienced less stress and back pain.
After falling in love with cycle/yoga, she began her training in the Fall of 2009. She has since been trained in yoga sculpt and is certified in TRX, Barre, Tabata Bootcamp and a 2nd 200 hr yoga certification.
Patsy enjoys teaching new students and gets excited when a student accomplishes something they didn't think they could do.
Patsy instructs the following:
A sculpting workout developed from foundational Pilates and ballet dance movements with the use of a ballet bar, ball and small weights. Upper body and ab sculpting in addition to small amounts of cardiovascular work. Glutes on fire!

Little movements make for big results! Shoes or Toe Sox optional.




A 60 minute class; 30 minutes of Yoga-Infused Cycling followed by 30 minutes of Vinyasa Yoga. Indoor Cycling is a low impact, cardiovascular workout. Control your workout by adjusting the resistance and speed. Burn ~500 calories in 60 minutes! This is a great class for those new to Yoga or those looking to burn calories and gain strength and endurance.