Kerri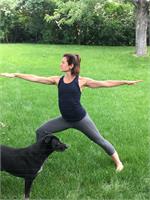 Kerri was born in the Deep South in Augusta, GA and raised in the heart of America in South Bend, IN. Her unique blend of southern charm and Midwest work ethic has continuously driven Kerri with a competitive, compassionate, and caring energy throughout her life and career.
Kerri's endeavors have included achieving her Masters in Speech Pathology, working as a certified Speech Therapist in both the health care and educational settings, raising 3 beautiful children and most recently becoming a fitness instructor. She completed the Burn at the Barre training and received her certification in the Fall of 2012, spin certification in 2013, completed her 200 hour yoga teacher training in August of 2014 and power yoga extensions training in the Spring of 2015.
Kerri first discovered her desire for fitness competing in track, basketball, and softball as a young girl. She played softball at the Division 1 level at Ball State University. Kerri continues to have a passion for activities such as running, cycling, and yoga and continues to personally pursue these activities as a recreation, discipline, and as an important element of her lifestyle.
Kerri completed her Cycle/Kore training in the spring of 2013. She loves how a cycling class makes her feel energized and truly enjoys seeing her students benefit from their workout.
Kerri strives to make her classes inviting and fun yet challenging.
Kerri instructs the following:
A sculpting workout developed from foundational Pilates and ballet dance movements with the use of a ballet bar, ball and small weights. Upper body and ab sculpting in addition to small amounts of cardiovascular work. Glutes on fire!

Little movements make for big results! Shoes or Toe Sox optional.




A 60 minute class; 30 minutes of Yoga-Infused Cycling followed by 30 minutes of Vinyasa Yoga. Indoor Cycling is a low impact, cardiovascular workout. Control your workout by adjusting the resistance and speed. Burn ~500 calories in 60 minutes! This is a great class for those new to Yoga or those looking to burn calories and gain strength and endurance.




Sculpt your body by adding small hand weights (always optional) to your yoga flow! A Vinyasa flow class with sculpting and cardio to strengthen and sculpt the full body.




A series of flowing poses linked together with breath. This class is designed to open the body through movement while quieting the mind with breath. Working together, they create a meditation in motion.

Come and awaken the spirit!