Megan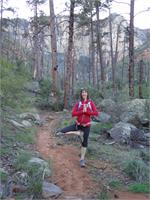 Megan enjoys sharing the benefits of asana, breath, movement and community. She believes yoga has the power to help us feel more centered and harmonious within our minds and bodies. She leads a strengthening, alignment based flow and hopes that students leave class feeling accomplished and nurtured.
She stumbled upon The Cycling Yogi as a student in 2010. "I am so grateful to have found TCY, it is a true joy to continue to grow in this community". Megan stays busy as mom, making time for skiing, camping, hiking, biking with her husband and being outside with her two kids and golden retriever.
Megan instructs the following:
A 60 minute class; 30 minutes of Yoga-Infused Cycling followed by 30 minutes of Vinyasa Yoga. Indoor Cycling is a low impact, cardiovascular workout. Control your workout by adjusting the resistance and speed. Burn ~500 calories in 60 minutes! This is a great class for those new to Yoga or those looking to burn calories and gain strength and endurance.




Indoor Cycle is a 30 or 45 minute cycling workout for those who prefer to train aerobically without placing undue stress to the joints. The class is designed using choreography and visualization, focusing inward while making the mind/body connection. Indoor Cycle is motivating, invigorating and leaves you with a sense of accomplishment. It attracts the fit and not so fit who want to find another way to burn calories, increase heart rate and enjoy a fun filled class of fitness and well being.