Heidi E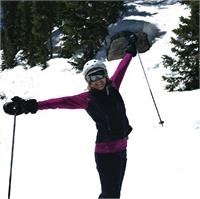 Heidi joined the Cycling Yogi team in November 2016 as a cycling instructor. She has spent the last 30 years of her physical therapy practice working with children who have disabilities and their families to enhance community participation and independence. She earned her Doctor of Physical Therapy degree and Doctor of Philosophy in Pediatric Science degree from Rocky Mountain University of Health Professions. She is an Associate Professor at Regis University and has worked with community rehabilitation teams in the United States, Nicaragua and Peru.
Her work and life experiences have taught her to have gratitude for her health, family and community. In her free time, she is skiing, cycling, running, swimming and spending time with her husband and 3 children. She is excited to share her love for health & wellness with the Cycling Yogi community.
Heidi E instructs the following:
Indoor Cycle is a 30 or 45 minute cycling workout for those who prefer to train aerobically without placing undue stress to the joints. The class is designed using choreography and visualization, focusing inward while making the mind/body connection. Indoor Cycle is motivating, invigorating and leaves you with a sense of accomplishment. It attracts the fit and not so fit who want to find another way to burn calories, increase heart rate and enjoy a fun filled class of fitness and well being.