Lisa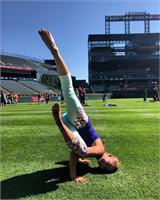 Lisa moved from Ohio to Colorado in 2011 for the fresh air and proximity to the mountains. She has a love for the outdoors and can be frequently found with her furry companion, Bozeman, at the nearest dog park. She found a love for yoga during her college years after attending a yoga class for credit. During these classes she discovered that yoga helped her find an appreciation and love for herself. She continued on her yoga journey after moving to Colorado and was lucky enough to find The Cycling Yogi. While attending classes at the studio she felt strong and confident and knew she would like to take her learning of yoga to new heights.
After practicing for 5 years she decided to take the leap and attend a yoga teacher training. She has never looked back and is excited to share the benefits of yoga with others! She loves teaching high energy Vinyasa flows but also appreciates slow flows/restorative classes that help us all connect with our minds and bodies.
Lisa instructs the following:
A series of flowing poses linked together with breath. This class is designed to open the body through movement while quieting the mind with breath. Working together, they create a meditation in motion.

Come and awaken the spirit!