April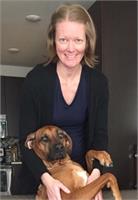 April completed Yoga teacher training (200 hours) with Catherine Deans at Halfmoon Yoga, and is also a member of the Yoga Alliance and Associated Bodywork and Massage Professionals. April is Licensed Massage Therapist, Reiki practitioner, vegan, dog lover, and outdoor enthusiast. In addition to the physical practice of Yoga, April loves studying Yoga philosophy and practicing Pranayama (the breathing exercises of Yoga). April found Yoga at a low point in her life: sick in her body, tortured in her mind, and troubled in her soul. After experiencing the benefits of Yoga first hand April decided to complete teacher training in order to share the transformational practice of Yoga with others.
The Yoga April teaches is in the tradition of T. Krishnamacharya. April's classes are intended to lead you to the still place within through the conscious connection of breath and movement. April's classes are accessible to all skill levels, and beginners are encouraged to attend. April teaches Vinyasa Yoga and Restorative Yoga.
April instructs the following:
Find your deepest relaxation in this 60 minute class that incorporates props (bolster, blankets, blocks, etc) into the poses to allow complete relaxation.

Supported poses are held for a period of time while the teacher guides you through deep relaxation techniques.




Vinyasa style Yoga taught at a slow pace, breaking down each pose to ensure proper alignment. Good for those just starting their journey into Yoga, more experienced yogis that want to fine tune their practice, or those just looking for a deep stretch. This class will be geared towards the new student.




A series of flowing poses linked together with breath. This class is designed to open the body through movement while quieting the mind with breath. Working together, they create a meditation in motion.


Come and awaken the spirit!