Allie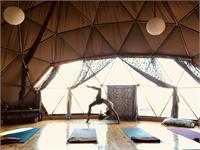 Allie discovered yoga while training as a dancer in adolescence. She found it was a complimentary practice and helpful in grounding and reducing anxiety prior to preforming as well as increasing the body mind connection.
She completed her 200 hour training in Vinyasa and currently teaches at an addiction recovery center where she also works as a psychotherapist.
Join Allie for a fun and challenging class that will increase flexibility, strength and leave you feeling centered and rejuvenated!
Allie instructs the following: